One Kalakaua Senior Living
Welcome to One Kalakaua Senior Living,
Honolulu's premier, fee simple, full service retirement community.
OKSL concept and overview
OKSL was developed and built by One Kalakaua Partners to offer discriminating seniors a comfortable, convenient lifestyle in the heart of Honolulu providing a friendly, secure ohana atmosphere with top notch food and professional health care services.
Nationally acclaimed senior management leader, Life Care Services Corporation, of Des Moines, Iowa, collaborated with Wimberly, Allison, Tong and Goo, a world renowned architectural firm based in Honolulu, to bring the developerís concept to reality using the latest trends and concepts found in upscale retirement communities on the mainland.
OKSL opened for occupancy on October 10, 1997 offering 166 fee simple independent living condominiums consisting of 1B/1B, 2B/1B and 2B/2B floor plans, an in-house, 24 hour a day, assistance in living program licensed by the State of Hawaii, and Hale Ola Kino, a 32 bed, medicare and medicaid licensed skilled nursing facility (SNF) located in-house on the 2nd floor.
Location

OKSL is located on the ewa-mauka (northwest) corner of the Kalakaua Avenue and Young Street, approximately 1 mile from Waikiki. This central location makes getting around Honolulu quick and easy. The Bus stop for Ewa bound transportation to down town Honolulu and beyond is right across Beretania Street, a main artery that borders our property on the north. Diamond Head or Waikiki bound public transportation is located one block from OKSL at the corner of King Street and Kalakaua Avenue.
OKSL Ownership
OKSL is fee simple which offers you choice, flexibility and financial security.
You can rent or re-sell your unit anytime. And when you die, your OKSL condominium will go to your children or heirs as set forth in your will or trust.
Age restrictions on ownership or residency
There is no age requirement to own a OKSL unit. However, OKSL house rules require the primary resident in each unit to be at least 55 years of age. Those under the age of 55 may live in a unit as long as the primary resident is 55 years of age.
General unit features and descriptions
OKSL offers 1 Bed./1 Bath, 2 Bed./1 Bath & 2 Bed. /2 Bath fee simple condos (view floor plan). Units come with a fully equipped kitchen including a full size stove and oven, refrigerator/freezer, dishwasher, twin stainless steel sink with disposal, under cabinet microwave oven, a full size stack washer and dryer and solid surface stone counter tops, similar to Corian, on white, raised panel, wood cabinets.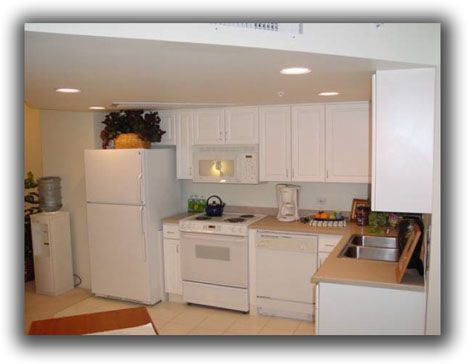 Floors are generally carpeted, while most kitchens and bathrooms floors have ceramic tile. OKSL is centrally air-conditioned via individually adjustable units in each apartment. Windows offer the option of fresh trade-wind air from Manoa Valley.
Unit Modifications
Owners may modify, customize and upgrade their apartments. House rules require that major modifications ( removal or relocation of walls, utilities or appliances) be submitted to the building maintenance chief and the Board of Directors (BOD) for review and approval prior to the commencement of work.
Parking and Storage Lockers
There are 17 guest parking stalls located on the main entry level off of Young Street.
An exclusive underground parking stall is deeded to each unit. The parking stall is assigned, covered and secure. Owners who desire additional storage space may install a full size or half size locker near their parking stall or in another assigned garage area. Residents who donít use their parking stalls may rent them to other OKSL residents or employees. The usual monthly charge is $50.00.